The
Wellington Public Library
.
Or, to be more specific, the
extensive selection of comic books
at the Wellington Public Library. Borrow as many as you want for a whole month, free. Life doesn't get much better than that.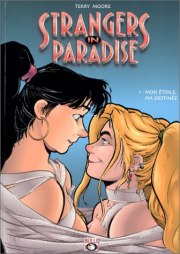 For those of you who are not comics aficionados, comic books in their compiled forms -- otherwise known as 'trade paperbacks' -- are quite expensive. Particularly here in New Zealand, where all comics (including NZ's own comics) need to be shipped in from overseas. A single trade paper normally consists of 5 to 8 comic books bound together, and will likely cost upwards of $40. (In Canada, the same would cost about $27.)


Some comic series are more worthy of this price tag than others. Without so much as a moments' hesitation, I plunk down big money for the two series I follow: Strangers In Paradise, and Y: The Last Man. Given the amount of enjoyment I get from these titles, the money is largely irrelevant.

However, as with any form of entertainment, we must continue to try new things. (Especially since both Strangers and Y will be terminating this year.... sigh....) So, I periodically buy a trade paper of some title I hear about. Usually, it's reasonably entertaining, but not worth shelling out big bucks to continue the series. So, I stop following that title, and resume my lamentation for Strangers and Y.

The result: No new series for Karla, only dying ones. Karla saaaaad.


Enter the Welly Library, and their incredible selection of comics. Now, I am revelling in renting the following titles, many of which I'd been wanting to try for quite a while. (And did I mention it was all free?!) ;-)
Fables: Winner of many comic awards for its smart writing, intriguing premise, great characters. Refuse to pay for it due to it being increasingly misogynistic, and disturbingly clever political propaganda. And that it consistently illustrates a prominent character -- a love interest, even! -- without eyes or a mouth. Ew.

Preacher: Also won a few awards, one of the first adults-only comics. Neat premise, great plot, though fairly offensive in all ways. Refuse to pay for it due to flat character development, confusing treatment of homophobia, and the relentless use of sordid sex acts as gags.
Oh My Goddess: Fun Japanese comic, quite funny, but mostly just forgettable fluff. Not really worth $20, but a good laugh all the same.
Tank Girl: Fantastic title that I fully intend to buy... but impossible to find in the northern hemisphere!
The Luna Brothers' Girls: Dumb and sexist, but the art is good, and it tickles my conspiracy-bone just enough to actually make me curious about reading it to the end.
100 Bullets: This one has an even better conspiracy afoot. Interesting moral dilemmas, unique art style, fascinating characters. Too bad all the otherwise-fairly-empowered female characters are early-twenties barbie dolls falling out of scanty clothing. Oh, and they're all criminals, strippers, or prostitutes. Greeeat.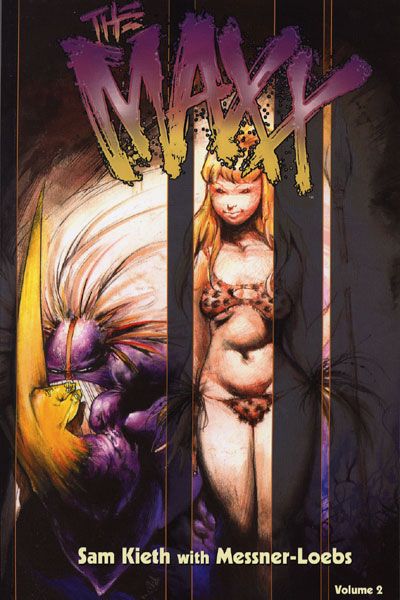 The Maxx: Mindblowing art and amazing plot, but then the only villain dies by the end of the second volume. The series then goes on a longwinded Jungian journey for another four volumes, with or without many of the main characters you've grown attached to.
Love and Rockets: One of the first big titles of independent comics, and I finally got around to reading it. A slow, sensitive and brilliant view of life, love, and the beautiful mundanity of the everyday. I will definitely be buying this one when I return to Canada.





Hooray, free comics. End result = HAPPY KARLA! :-D